On May 9, 2006, President Bush discussed how signing up for the new
Medicare
prescription drug coverage program can help beneficiaries save money and get the drugs they need. When the President came into office, Medicare was outdated and did not meet the needs of America's
seniors
. Congress passed, and the President signed into law, legislation to modernize Medicare by providing preventive care, offering seniors more choices, and giving seniors better access to the prescription drugs they need.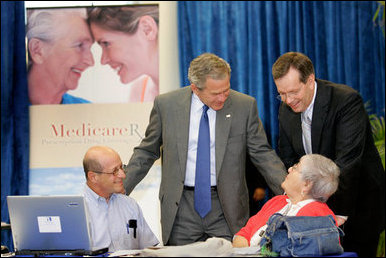 President George W. Bush and Health and Human Services Secretary Mike Leavitt with seniors at a Medicare Prescription Drug Benefit Enrollment Event at
Broward
Community College in
Coconut Creek
, Fla., Tuesday, May 9, 2006. White House photo by Eric Draper.